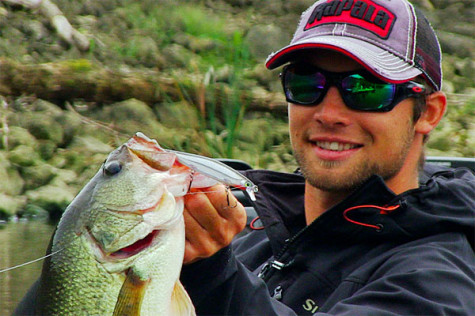 Rapala just came out with the new Shadow Rap jerkbait, and one guy who loves it is Rapala pro Brandon Palaniuk. Here's what he says about the bait and how to fish it.
The deal
"The body shape is like an elongated minnow-style body with flat sides, which allows it to have a pretty tight wobble to it but also allows it to glide really well," he says. "It has kind of a flatter bottom to it which gives it really good horizontal movement.
"It can pretty much spin 180 degrees [on each jerk/pause] if you get the right cadence down – from one side all the way to the other side – it's crazy! And it might only move 3-4 inches forward.
"So just allows it to create a lot of side to side movement without leaving the strike zone."
What he likes
Brandon says the bait has what he calls a "slow death phase. It sits nose down and slowly sinks in high 40s, low 50s water temps. And as it gets colder – a water temp like 41-42 – the bait actually kind of just sits there dead. It doesn't move a muscle."
He also likes the 3-hook [three-treble] design. "They actually had to design new VMC hooks for it to get it to balance right, and with those lighter-wire hooks, if a fish pretty much breathes on it it gets stuck.
"But the biggest thing to me is how much side-to-side action it creates. And right when it stops, it has a little shimmy right before it comes to rest. I think that's a huge key. That little shimmy when it stops triggers a lot of strikes."
How he fishes it
"Just fish it the same as regular jerkbait," he says. "I use a 6′ 10" medium-light Abu Garcia Fantasista, Abu Garcia Revo MGX 7:1 reel, and and 8- or 10-lb Trilene 100% Fluorocarbon."
He notes that "to get best action out of it, you need a little slack in your line." That's why he likes that high-speed reel. "As soon as I see the line twitch, I like to pick up a lot of slack to set the hook."
More on the Rapala Shadow Rap at ShadowRap.com.
Category: Fishing Tips/Techniques