Chris Zaldain finished 8th at the recent Bassmaster Elite Series tournament on Toledo Bend Reservoir, using Strike King baits in two different situations. Here's how he did it.
"In 2012 I had a top 12 at Toledo Bend at a similar time of year," he said. "This time we were a little bit earlier, but the fish were still kind of doing what they were doing back then.
"I had an area up north all to myself the first time I fished there, targeting the bluegill spawn. I was eager to check that area during practice. It's real shallow hay grass or lily pads, any type of shade canopy, and you could hear bluegills eating bugs and things off the pads and hay grass.
"I didn't check it 'til the second day of practice. I went through there and caught two 5s and shook off several dozen bites. At that point I was all-in with that pattern. I was fishing a 1/2-oz slither rig with the Strike King Menace Twin Tail Grub."
Another Pattern Found
"But day 3 of practice, I decided to run down to deeper water. Since was close to the spawn, I wanted to see if there were any cruising fish or sight fish. I found pockets holding really big cruising-type fish, which is typical later in the spawn when the water's real warm.
"The fish are still trying to bed and they're real skittish. They don't really lock onto a bed. They just hang out on sandy flats or points.
"I put the trolling motor on high, and ended up spotting what I thought was a 9 and turned out to be an 8-12, and another close to 7. I tried to work the bedding area with a Texas rig, a jig and a dropshot, but every time I pitched to [the big one] she'd move off and act real weird."
Day 1 of the Tournament
Chris said, "The weather was supposed to get progressively calmer and hotter, which makes the bluegill bedding bite better, so I figured on the cooler, windier day 1 I'd go to my bedding fish.
"I went to 6-lb line, a little wacky rigged KVD Finesse Worm (watermelon red) with a 1/16-oz nail weight in the head. I stayed 20-30 yards off so it was a real long cast.
"I felt a small little tick, almost like a bluegill bite, set the hook and immediately knew it was the big one. She got me wrapped up in a hydrilla bed…the line was going vertical into the hydrilla bed but I see her 20 feet away!
"She ended up being the big fish for the day and for the tournament.
"That right there catapulted me. I got a 6-lber to bite, and I was in the top 5 going into the second day. It was really satisfying, and I had a gameplan because I had my area up north."
The Bluegill Bite
"Day 2 I started flipping those popping bluegill in the canopies," he said. "I was flipping the Strike King Menace Twin Tail Grub in honey candy and candy craw, which do a great job imitating bluegill.
"I trying to find the deepest, darkest little holes and canopies, and I was catching a ton of fish. I was having to weed through all the 3-pounders and did all right.
"I knew the fish were there and no one was going to mess with them. I didn't see a single competitor boat there all day."
Rig and Key Flipping Tips
Here's Chris flipping rig:
> 1-oz Strike King Slither Rig (candy craw)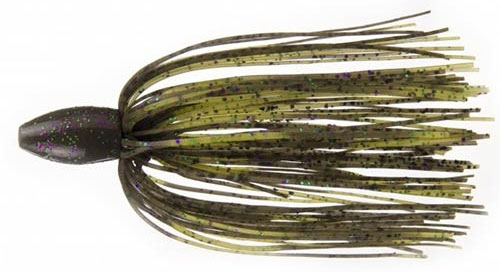 > 3/0 Hack Attack Flipping Hook – "The important thing was using a smaller hook. Lots of time we use a 4/0 or 5/0 straight-shank hook when we're flipping heavy cover. The reason I wanted a smaller hook was that the hay grass was so thick that when I stuck a fish under there, if the hook point exited the mouth the grass got behind the barb and…there's nothing to hold the fish pegged. When I went to the smaller hook, the hook point would stick to the roof of the mouth and never penetrate through. After that adjustment I started landing more fish."
> Strike King Menace Twin Tail Grub – honey candy and candy craw (pictured) – with tails colored chartreuse.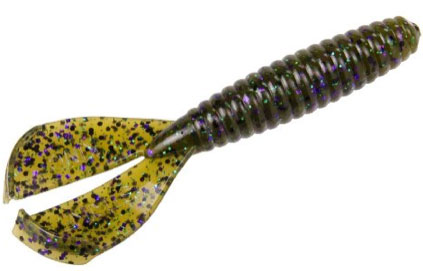 > MegaBass Orochi XX 7′ 9″ medium heavy flipping rod – "Because it was just canopies – once you penetrate through the canopy it's just open water – you can use a softer flipping stick."
> 65-lb Seaguar braid
He looked for the heaviest matted vegetation he could find, kept the boat in 4 feet, was flipping in 2-3 feet, and 90% of the time the bite was on the initial fall.
More on the Menace
The Rage Menace is a 4-inch bait, a length some see as too small to imitate a bluegill – even though Chris, current Bassmaster Angler of the Year points leader Mark Davis and other Elite pros have used it for exactly that purpose. Here's what Chris said about that:
"I initially thought a 4-inch bait was too small [to imitate] bluegill, but when you're flipping heavy matted cover like that, smaller is better. There's less meat there, and when you're pitching to tiny little holes, that allows the bait to slip right through there easier.
"Plus the action and audio of those tails got those fish to bite on the initial fall almost every time. That allowed me to cover more water more efficiently."
Category: BASS, Elite Series, Fishing Tips/Techniques, LA, TX