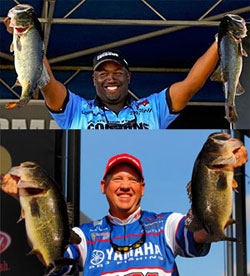 We just uploaded another 34 patterns to the BassGold database: the patterns from the Top 10 finishers at the St. Johns River and Okeechobee Elite Series events, and about 20 FLW patterns (FLW Tour, EverStart, TBF) covering Table Rock and Bull Shoals in prep for the upcoming B.A.S.S. events.
A few things we noticed, by water:
> St. Johns River – 5th, 6th and 7th place all fished the main river, as BassGold data indicated would be productive. So fishing Lake George or other "Large Bay" waters, as BassGold classifies them, isn't a requirement to do well there during the spawn.
> Okeechobee – Even though winer Ish Monroe fished the southeast corner of Okeechobee, most of the top finishers fished the "west wall" area. Lots of guys did well with jigs – not just soft-plastics – and Scott Rook's old-school use of a big lizard plus a swim jig was the most interesting pattern. Power-Poles were key (more on that was in yesterday's BassBlaster newsletter – are you signed up yet?).
> Bull Shoals/Table Rock – Looks like umbrella rigs are only really for pre-spawn, at least on these lakes. Cranks and craws on mostly on shoreline wood and rock have been the deals so far this year.
Category: BASS, Central Pro-Am, Elite Series, EverStarts, FL, FLW, FLW Tour, MO, TBF