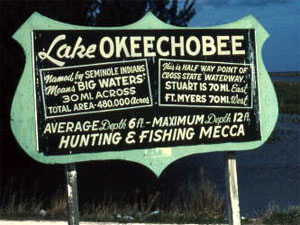 With the Bassmaster Elite Series swinging through Florida over the next couple of weeks, we made sure to enter the relevant St. Johns River and Okeechobee patterns we didn't already have in the database.
Today's batch is 90+ patterns – some for the St. Johns, Toho and East Lake Toho, but mostly for Okeechobee. Note that the BassGold database doesn't yet have all FLW-trail Okeechobee patterns because most of their tournaments are in January, which has already passed.
Even with the mild winter screwing up spawning schedules, those January tournaments aren't very relevant now – but will be in the database well before next January.
Two interesting things:
1. Pattern-wise, Okeechobee is unusual compared to just about every other lake because the Macro Factor – generally where on a body of water bass are caught (Main Lake Points, Shoreline, etc.) – is largely out of play.
In other words, Okeechobee is like one large, shallow bay and the bass can be anywhere. So cover type and bait (which suggests fishing approach) seem more important. The Pattern Details on each tournament page are key in this case.
2. What's cool about Florida is that just about every piece of water there falls under the Water Type category "Natural Lake/River." So if you're fishing a Florida lake that's not in the database yet – or even a Natural Lake/River at a similar latitude – you can create a Pattern Report for that Water Type and will learn a lot that way.
That's of course true for other Water Types in other states too.
Category: BASS, BFLs, Data Updates, EverStarts, FL, FLW, FLW Series, FLW Tour, Guys & Dolls, Operation Bass/Red Man, Weekend Series