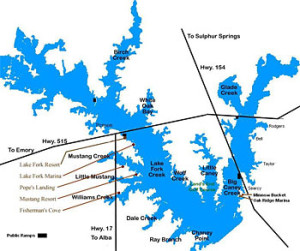 We've had a couple of requests for Lake Fork patterns so we found some and they're now in, over 40. Most are from the PAA's spring team tourneys there and Media Bass events, plus some Sealy Outdoors big bass derbies.
After looking at the Fork data we're not real sure why there's a lot of interest – Fork's slot makes weights in most 1-day tourneys low, and everyone knows for the big ones you have to crank deep…though that's not necessarily the case in the 1-fish big bass derbies.
If you're a limit tourney angler and don't want the big bass events in a Fork Pattern Report, just make sure you don't check Sealy Outdoors as a tournament trail option on the Generate Pattern Report screen.
We also added some patterns from events on Sam Rayburn, Amistad and Falcon, for almost 3,300 patterns (and counting – more go in every week!) in the BassGold database with more input all the time. Also a few patterns from Texas' Lake Somerville, the first ones we have.
Note: When we're talking about this stuff, these are patterns that BassGold staff are checking and entering. More and more patterns are being entered by anglers who are using BassGold as the ultimate fishing log. Some are being kept private, so you can't see the details, but some aren't….
Category: CAST, Data Updates, Fishers of Men, Media Bass, PAA, Sealy Outdoors, TX