Elite Series pros don't do things for no reason. Or another way to say it, if they do do something it's for a darn good fish-catching reason. So after seeing the new Keith Poche-designed Humdinger Power Spinner, I had to find out what that reason was.
The Power Spinner is basically a Colorado blade with a swivel that you can screw into a soft-plastic. Big deal, right? Well, like I said, had to be for a good reason so I called Keith and here's what he said:
"I didn't really know what it would be. I started fooling around with it years ago, before I started fishing pro or even considered fishing pro."
It started with a Beetle Spin. "Those suckers can fall apart after a couple fish," he said. "One time the shaft with the blade broke off and I just stuck in a worm to play with it." And he kept playing with it, which eventually resulted in this: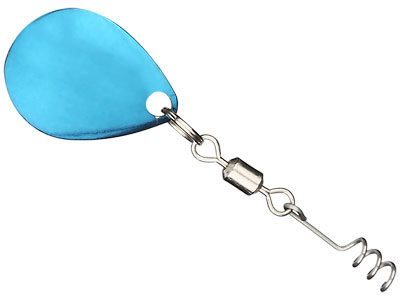 He uses the Power Spinner (aka, Hitchhiker) on big stickbaits, meaning Senko-type baits, fished shallow.
"I like using a 6″ or 7″ stickbait – it has a little bit more weight to it and little more presence in the water," he said. His favorite is the Luck E Strike Jogger Worm, which he rigs with a Gamakatsu 4/0-5/0 offset shank hook. He doesn't use an EWG hook because he feels it has more flex than a standard worm hook, and that can be a liability with setting the hook at the end of long casts.
He rigs it like this…


…which he learned to do after finishing 3rd at the 2012 Bassmaster Classic on the Red River. "Losing so many fish in such an important event made me go back to the drawing board and look at [the rig] again," he said. "I noticed I was getting a lot of short strikes, and I realized I needed to put the hook point further back in the bait."
Since he doesn't use a weight for this rig, he just pushes the bait up the line a bit (he likes 15-lb line), then pushes the hook back in. "When you cast, with the line coming out of the tip of the worm it'll tear a lot more, but your chances of hooking up are a whole lot better."
He feels this rig "excels at 5 feet or less. The fish hear the vibration of that small blade and it grabs their attention. You just need that little flash to get their attention, and you'll be surprised. They're like a shark coming after it."
He casts it out, then lets it fall (deadsticks it), then pops it back up, and if a fish doesn't eat it on the fall, he'll slowly reel it back. That spinner basically then turns that stickbait into a swimbait, he notes.
His favorite blades are the gold and silver hammered ones, but said the blades are available in different colors because fishermen are finding that some colors do well in certain conditions. "For example, we've found that those green and blue blades, in tidal and brackish water the fish eat it up."
Check out the Humdinger Keith Poche Power Spinner on TackleWarehouse.com.
Category: Fishing Tips/Techniques