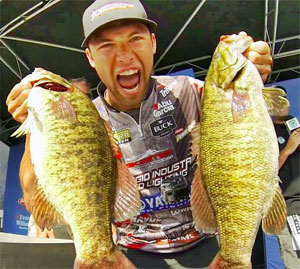 Brandon Palaniuk knows the mental part of professional tournament bass fishing can be as important as the physical part, so he relies on a technique known as 'positive visualization' to carry him through the tough days of competition. It's something the Yamaha pro learned as a wrestler, and he continued it when he began fishing professionally in 2010.
"I actually started before high school, when I was about eight years old," remembers Palaniuk. "I was wrestling then in school, but didn't really know what positive visualization was. I just did it because the coaches told us to.
"Then in high school, it became an important part of our practices. We would lie on the wrestling mats with the lights out, and the coach would walk us through every part of a match, from warmups to a take-down to winning and having the referee raise our hand in victory at the end of the match. It always ended in success, so it wasn't hard to apply that process to bass fishing."
He credits his two Bassmaster Elite wins, each of which he led from start to finish, as well as his runnerup finish in the 2013 Bassmaster Classic to his positive visualization process. He's also learned that this technique is a major part of the training cycle for Olympic athletes in all disciplines. The key is always having the thought process end in success.
Elite Wins
During his initial Elite Series win at Bull Shoals in 2012, Palaniuk caught his fish in deep water offshore, so he was casting only to a GPS point. He could see bass on his electronics, so as he lay in bed at night he imagined how the fish related to the structure he couldn't see, how he needed to position his boat, and how he would make each cast. He continued the visualization process all the way through receiving the winner's trophy.
"During the St. Lawrence tournament this past season, I also lay awake each night visualizing every detail of the 100-mile boat ride to my fishing spot in Lake Ontario," he said. "I would continue that thought process during the ride itself the next morning, visualizing how I would see the bass on my electronics, dropping a lure to them, and then landing them.
"I would go through this with every single fish, and then I would visualize the 100-mile ride back to the weigh-in, and holding up fish as the tournament leader.
"I would try to be as detailed as possible in my visualization, but at the end I always visualized myself winning."
2013 Classic
Prior to the 2013 Classic, Palaniuk visited Grand Lake in February 2012, a full year in advance, and found the pattern he actually used during the event itself. So he was able to spend 12 months visualizing very precisely how he would fish the tournament. He finished second by just over 3 pounds to fellow Yamaha Pro Cliff Pace.
"Sometimes my visualization process takes only about 5 minutes, and other times maybe as long as 15 minutes," he says.
"There are times, of course, when things don't work out the way I would like them to, and when that happens, I visualize myself making a change in techniques, moving to a new location, and certainly making better decisions on the water. I try to turn that day into something positive I can do the following day."
Heading Into 2014 Classic
As the 2014 Classic nears, Palaniuk says he's using positive visualization nearly every day, often during early morning runs through the Idaho countryside near his home.
Throughout each run, he visualizes himself catching bass at Lake Guntersville, always making good decisions and adapting successfully to different situations.
"It's difficult for someone who has never tried positive visualization to understand how valuable it is," he says, "but it allows me to be more focused on what I'm doing, and it certainly helps me make the decisions I need to make. I really do believe it's been the difference between winning and not winning for me."
Category: BASS, Classic, Elite Series, Fishing Tips/Techniques