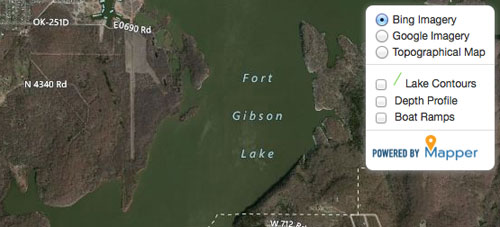 Fort Gibson Lake, OK – Oct. 26-27
If you ever had a shot at winning a big-bass tournament, this might be it. Because according to the pattern info in BassGold.com, this time of year Fort Gibson typically isn't a big-bass lake – but the fish are biting. In other words, you could get into lots of fish, any one of which might be a winner.
Before getting into what BassGold says, here are a few things to consider:
1. Always bear in mind the current conditions. BassGold's data covers many years and most weather conditions, but always factor in what BassGold says with what you're seeing on tournament day.
2. This is just a quick overview of the info BassGold has, but there's a lot of info in there. That's gold, and you can get more gold by applying what you know to what BassGold shows.
3. BassGold's data is based on thousands of tournament patterns (mostly), which means it's not what should or might work, it's what has definitely worked. Have confidence in it even if it's counterintuitive. BassGold's pattern info was second-guessed several times on the Elite Series, and ended up being right every time.
Overview
BassGold doesn't have a ton of pattern info for Fort Gibson in October. But it does allow you to quickly skim the most productive patterns, including the top three patterns from a Bassmaster Weekend Series event on the lake a few weeks ago. The top things that jump out are:
> Flipping upriver can be a good bet. Look for eddies.
> Cranking, flipping and shakey-heading the main lake is good too.
> Wood is key. Find it and you will find bass. Docks are typically good too.
> Don't be afraid to get shallow.
> Flipping baits (especially craws/creatures), squarebills and even topwaters can be good – and you better have one rod with Tommy Biffle's rig: a Gene Larew Hard Head and Biffle Bug.
> If you can find bait, you might want to haul out an A-rig too.
Good luck!
Category: Analysis, Oakley Big Bass Tour, OK