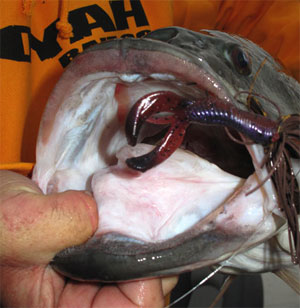 Bassmaster Elite Series pro Terry Scroggins likes to fish shallow in summer.
When it comes to mats, most people go right for the thickest stuff. But Scroggins finds plenty of fish hiding near the outskirts of mats.
"Those are great ambush points and it's cover that often gets overlooked because they're small isolated patches, usually on the outside edge of a weed line," he said. "It's not like you're going to catch a whole school of fish off of one clump. Most of the time, you'll get two or three bites.
"It's also easy to cover because it's a very small target. It's a high-percentage point that takes hardly any time to fish effectively."
He likes a 3/4-ounce Boo Jig with a 3 3/4-inch Yum Craw Chunk easily pushes through the looser vegetation while presenting a large profile that generates big bites.
Natural colors like green pumpkin, brown and watermelon work best in clear water, while black/blue or dark neons provide the necessary contrast if the water is stained. Scroggins flips and pitches his jig on a 7-foot, 8-inch extra-heavy Duckett flipping stick with a 6.3:1 Lews baitcaster holding 65-pound braid, which helps him manage big fish by slicing through the salad.
"When I'm flipping the isolated grass, I'll flip the jig in there and deadstick it," he said. "I'll let it go to the bottom for 15-20 seconds before I do anything. With a Craw Chunk, that jig will actually stand up like a crawfish would be in fighting mode. I'll let it sit there, hop it twice and go on to the next drop."
Footballs Up Shallow
One shallow tactic fellow Elite pro Cliff Prince likes is dragging a football jig. "A lot of people don't throw it in shallow water because they think all the fish are out deep during the summer," he said. "The fish will get shallower than a lot of people think – especially if we get a lot of rain. If the water gets dirty, the fish will move up shallow to feed."
Cover is key. As with the traditional offshore retrieve, he sticks with a meticulous drag that gives fish plenty of time to spot that noisy, hefty profile representing an easy meal. "You don't want to move it a lot in the summer," he said. "The fish don't want to chase anything."
He likes the big profile of a 3/4-ounce Booyah Pigskin Jig with a full skirt guaranteed to move a lot of water. His favorite colors are molting craw and nest robber, matched with a green-pumpkin chunk.
In much of the water he fishes during the summer, these color patterns match the stage of crawfish development, and in clear, shallow water, he wants the jig to look as natural as possible.
Category: Fishing Tips/Techniques