If you're reading this, you consider yourself a bass angler and probably are a fan of pro bass fishing. So I have to ask: Why don't you own a WEC E1 crankbait? Do you know anyone who does?
Why not? Because it's not like Bassmaster Elite Series pro Kevin Short has been keeping it a secret. A few examples:
> In June 2009 he won his first Elite Series event, on the upper Mississippi River out of Iowa. His main bait was the WEC E1 crankbait.
> In May 2010 he won his second Elite event cranking the E1 on Alabama's Pickwick Lake.
> In October 2011, he won the Bassmaster Central Open on Missouri's Table Rock Lake – cranking an E1.
> And at the September 2012 Central Open on Okla.'s Fort Gibson Reservoir, he once again cranked his way to a Day One lead and eventual second-place finish with the E1 (and another unusual bait, more on that below).
In every case, he's broadcast his use of that bait to the fishing world, but so far few anglers use it. "Even after what I've won on that squarebill, still not that many guys I'm competing against are throwing it," Short says. "I know that because only two people in the country sell them and I'm one, so I know who buys the baits."
Wow. Usually when a bait has proven to be successful, there's a mad rush to get it, use it and try to tap into its magic. But so far – even with Short's wins and high finishes across four consecutive years and a four different states using that bait – the E1 is still Short's "secret" bait.
"I've still got something a little special with that bait, and I'm good with that," he says. "Plus I've had that bait for eight years now, so I've had it longer, thrown it a lot more, and know what it will and won't do."
What's an E1?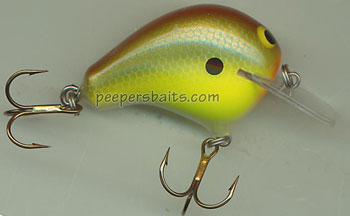 That's all well and good, but what is it? As you might be able to tell from the photo, it's a wooden squarebill crankbait – handpicked buy a squarebill nut.
"I own every plastic square-billed bait that anybody makes," Short says. "Not one comes along that I don't go out and buy, and not a single one has the action this little balsa E1 has. They don't weigh the same, they don't have the same balance, and they don't have the same action as this bait.
"There's nothing else out there like it. Period. And that little thing just catches fish. That's the bottom line."
Gear
But it's not that simple. To get the most out of the E1, Short relies on the right gear.
He starts with a 6-foot 10-inch St. Croix Mojo Bass glass rod with a medium/moderate action. "That's a rod we've worked on for several years for what I was doing with it – throwing a squarebill at something. Stumps, docks, laydowns, whatever. We call it a 'target cranker' because you're throwing the bait at a target.
"To have a rod do that well, you've got to have the right length. It can't be too long – like a 7-4, 7-2 or 7-footer. That's a little too long. A lot of times when you're fishing targets, you're making little underhand roll casts, and that's too much rod. But this little 6-10 is just about the perfect length, and it has a shorter handle so you can make those little underhand casts."
He matches that with a Lew's Tournament Pro reel (6.4:1) and 14-pound Vicious Pro Elite fluorocarbon line. Why the fast reel? "This isn't David Fritts sitting on the front seat of the boat, rest-the-rod-your-arm cranking," Short says. "This is short casts – bump one side of the stump, bump the other side and go.
"This is power cranking. The faster you can get that thing back to the boat and the faster you can bring it around the stump, it seems like you get more reaction bites that way and you can cover a whole lot more water."
E1 Bottom Line
"I throw the same stuff everyone else does," he says. "Just in certain situations, at certain times of the year, that little E1 it will absolutely outfish everything else out there, period."
The Secret Topwater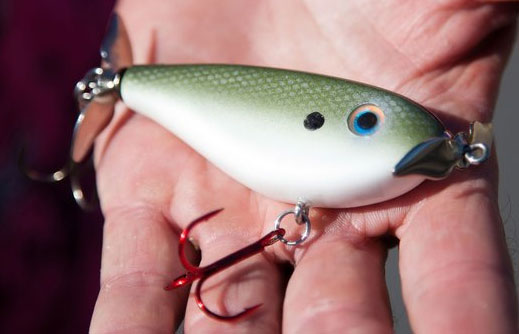 Another unique wooden bait Short doesn't mind talking about – but others don't want outed – is the Peepers Sandman Deuce. This is a pine prop bait designed to mimic the look, action and, maybe most importantly, the sound of a flipping baitfish.
Prop baits have been creeping their way back into the arsenals of accomplished tournament anglers because at times they just work – and, as Short notes, "not many guys throw one. Probably not many guys even have one in their box."
He likes the Deuce because it's an unusual shape for a prop bait – most prop baits mimic the cigar shape of the Smithwick Devil's Horse. But the Deuce has a pot-bellied shad or bluegill shape carved so that "when you rip it, it actually lays over on its side and comes through the water," he says.
It also "kind of makes the same sound to me that shad make when flipping on top. And for whatever reason, it just flat catches bigger fish. You may not get a bunch of bites on it – if you throw a popper or a Spook you'll probably get more bites – but at the end of the day, what you catch on that prop bait is going to be in the box."
One key is how the bait is weighted. "The Deuce is weighted so you can have No. 2 hooks on it – big hooks so it floats real low in the water. When we first started playing with [that bait], there wasn't enough weight in it. The fish would actually push the bait out of the water because it was so light, and wouldn't get hooked. We started adding more weight to it, and it worked better and cast farther."
Topwater Gear
He fishes the Deuce and other topwaters on a St. Croix Legend Extreme rod (6-8, medium/extra-fast), with the same reel and 14-pound Vicious Ultimate Mono line.
These days pro fishermen use mostly fluorocarbon or braided line, but Short says that "you have to have mono with topwater baits, especially a prop bait. Fluorocarbon is going to pull the bait down and it won't have the same action."
_____
These baits aren't available in stores. Get both of them at PeepersBaits.com.
Category: Fishing Tips/Techniques