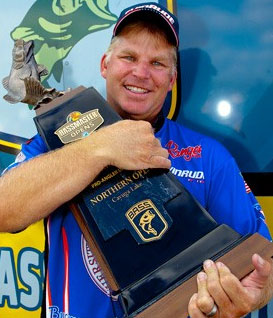 by Jay Kumar
You've probably heard his name, but if you're not real familiar with NJ's Pete Gluszek here's a quick bio: a former tour pro who recently qualified for the 2013 Bassmaster Classic and the Elite Series through the Northern Opens, who's been an Elite angler and fished in the Classic before.
Pete also co-owns and operates The Bass University with good bud and fellow Jersey boy Mike Iaconelli, and guides and gives fishing lessons. Bottom line: Pete can flat-out fish, and he's not afraid to share some of his secrets…not all, though (haha).
That's why I was a little surprised to hear that Pete came out with a new signature crankbait – on his own, meaning it's not made by a big-time bait company. I mean, the guy has made a good living doing stuff other people don't, so why let one of those cats out of the bag now? So I called him and asked.
The Bait
First of all, the crankbait is called Pete's Quiet Killer – as in, designed by Pete, runs quiet, kills the fish.
More deets:
> Handmade balsa bait
> About 2″ long
> Flat-sided, narrow with a round bill
> Runs 1-3′
> 4 colors
> $24.99 apiece
Why release it? "I used to use a bait like it, but the man retired and quit making them," he said. "I was running out and needed to get it rebuilt. So I decided to try to create a new bait like the one I'd been using, but there were a couple features I wanted to change."
He found someone to make the bait, and they developed and fished prototypes for about 2.5 years. The result, just released, is Pete's Quiet Killer…
…but still: Why release a killer, secret bait? "Good question," Pete said. "I gotta pay the mortgage – and in Bass U, I do a lot of teaching and give the good [info] away. Does it come back to you – is it a karma thing? I don't know. I enjoy teaching people.
"I also do a lot of shallow-water cranking seminars, and they want the baits we use."
Shallow
Speaking of shallow, "I was looking for a couple different things that were really really important on this bait," Pete said. One thing was it needed to run shallow.
"A lot of fishing I do is ultra-shallow, like in the 1-2′ zone," he said. "A lot of fish – a lot of big fish – are in that zone, especially pre-spawn. They're big and tricky to catch, so you can't bulldoze them. You've got to get in there and finesse that bite. That's what this bait is so good at doing."
Quiet
He noted that "a lot of [smaller crankbaits] run too deep and are too noisy." He feels that for that shallow bite, noise is a killer – in a bad way.
"Silence was one of the most important things," he said. "I use it in scenarios well-suited to finesse cranking: heavy-pressures situations, low water or low tide, clear water, bright skies – situations where you won't think of cranking."
Slow-Rising
Pete's Silent Killer is lightly weighted because he "wanted it to be a slow-rising bait. I didn't want that balsa to fire up to the surface – I wanted to slow it down a bit."
The bait's also weighted so it floats nose-down. "I learned that from my jerkbait fishing," he said. "You generate more and bigger strikes when you use baits that suspend in that nose-down position, and I wanted to employ that same strategy with this crankbait."
The bait also flashes to the side when you stop reeling, "like a bluegill trying to put on the brakes," and "that sideways flash also triggers strikes."
'Wanders'
Ever see a crankbait "wander" – intentionally? That's when a bait intentionally moves to one side or the other. Or as Pete describes it, "it fights for center."
"I didn't want a radical wandering motion on this bait. We found that manipulating the lip angle accomplishes that – it kicks left or kicks right. It has a subtle, erratic wandering action as you're retrieving it."
That also triggers strikes because "it looks like the bait is trying to escape," Pete said. "Straight back to the boat gets strikes too, but when the bait has an erratic action – just like in the wild – I think that triggers strikes."
Killer Grass Bait
One way Pete loves to use the bait is in shallow grass. "It works well on riprap, wood, everything, but really shines in grass," he said. A big reason for that is the round bill, which is an interesting choice since squarebills are so popular, but the round bill makes the bait do what Pete wants.
"When I'm working it through the inside grass edges in shallow water, I want it to get hung up in the grass. But I'm not ripping it out. That's not the strike I'm looking for. What you want to do is repetitively twitch it and it'll come through grass. If you try to snap it [out of the grass], it'll wad the grass up.
"With that bill and narrow profile, you can twitch it and walk the bait the bait through the grass in that real shallow water."
What He Fishes It On
Pete fishes the bait with a 6.1:1 Shimano Curado reel. He likes the higher gear ratio because "when a fish bites in real shallow water, the first thing the fish does is come toward you. A higher-speed reel is better for executing on that strike."
He's actually thinking about trying a 7:1-ratio reel, and usually uses 10-lb Gamma Edge fluorocarbon "except in situations where you're extremely shallow." Then he switches to mono.
His rod is a Denali 7′ medium-action crankbait rod.
More
> Pete's Silent Killer is now available in four colors: Pete's magic (light chartreuse/brown back, his #1 color in most situations), sparkle shad, firetiger and chartreuse/black back.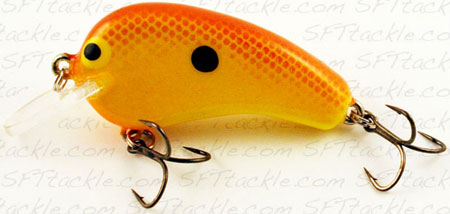 > The bait has Gamakatsu EWGs, "what I consider the best fish-holding hook," he said.
Category: Fishing Tips/Techniques